There are many layers of security features that protect our email communications by default. However, an additional technology called email encryption is available to Questar III employees which can increase the privacy of your email messages using state-of-the-art cryptographic techniques. You can turn on email encryption as needed, per message. Use good judgment to determine whether an email message you are preparing to send contains information that should have this increased privacy, such as Protected Health Information, Personally Identifiable Information, etc. You will need to follow the steps below each time you want to encrypt an email message.
How can I encrypt an email?
If you access your email through the Outlook App on a Windows PC, here is what the process looks like:

Step 1 - Above your draft message, click the "Options" tab. Then, click the dropdown arrow below the word "Permission".

Step 2 - In the dropdown menu that appeared after clicking the arrow below "Permission", choose "Encrypt". Now, you should see your draft again, but with a note stating that your email will be encrypted, as seen here: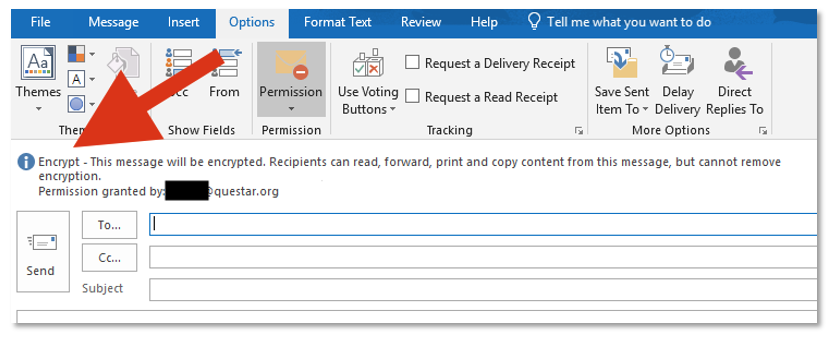 Step 3 - When you're finished composing your message, send your email like normal.
If you access your email in a browser such as Chrome, Edge, or Safari, here is what the process looks like:
Step 1 - Click "Protect" above your draft message. A grey bar will appear that mentions Do Not Forward. Then, click "Change Permissions" in the grey bar.

Step 2 - A "Change Permissions" box appears. In the dropdown menu within this box, choose "Encrypt".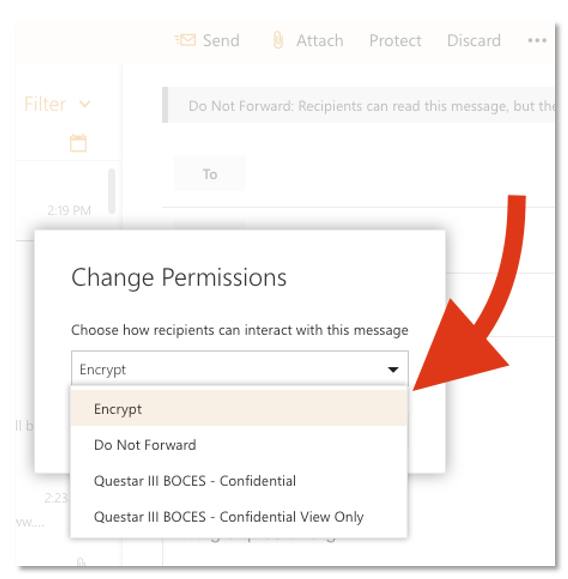 Step 3 - Your draft should now look like this. Note the grey bar mentioning that the message will be encrypted, as well as the small, grey padlock symbol all the way to the right of the Subject field.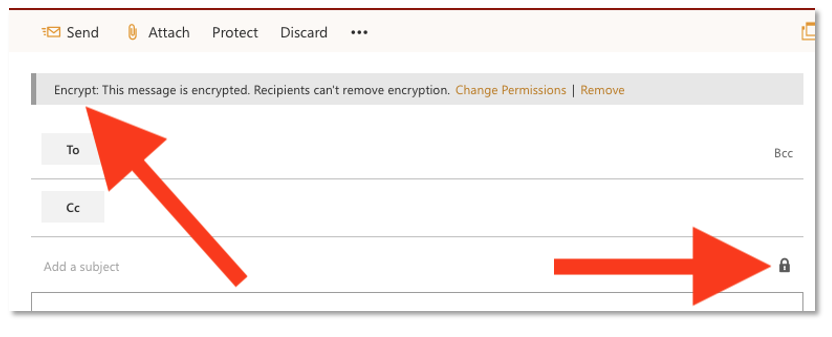 Step 4 - When you're finished composing your message, send your email like normal.
What if I add an attachment? Will that be encrypted as well?
Yes, attachments will also be encrypted along with your message.
If the recipient replies to my encrypted message, will our thread continue to be encrypted?
Yes. If all the recipient does is simply reply to your encrypted message, your conversation will continue to be encrypted. Outlook, whether the app or through the browser, will continue to display the encrypted status of the message thread.
Will anything seem different to the recipient?
Yes, to varying degrees. If the recipient also uses Office 365, almost nothing will be different for them, except that they will also see a discreet notice stating that the message is encrypted. If the recipient uses a different email platform, such as Google, they will be prompted to sign in with their Google username and password before they are able to access the message. If all else fails, the recipient can choose to have Microsoft send them a one-time passcode in a separate email that they can use to access the message. These one-time passcodes are only valid for 15 minutes.
Because things may seem different to your recipient compared with what they've experienced in the past, it is strongly advised that you consider reaching out to your recipient in advance, such as via phone call, to let them know that you will be sending them an encrypted email, and that accessing it may be different than what they are accustomed to.
In light of this, it is recommended to use email encryption on an as-needed basis, as mentioned earlier. Again, use your own good judgment to determine whether to encrypt a certain email or not.
Now that I know how to encrypt emails, do I have to worry about remembering anything else to maintain security and confidentiality of my communications?
Yes; a resounding yes! There are many other considerations beyond the scope of this document that are necessary to maintain security and confidentiality of our communications. Email encryption may be one helpful tool that can add to the privacy of our messages, but it is no substitute for using common sense and thinking ability to discern whether what we are doing is safe or not. For example, encrypting an email does not mean that it is appropriate to be sharing sensitive information with a certain person in that message. By encrypting your messages, you may help thwart a cybercriminal from eavesdropping on your communications, but your intended recipient still may not be an appropriate party to receive the information you are sending. Always consult and comply with applicable laws, policies, and regulations regarding sensitive information.
If you have any questions regarding email encryption or encounter difficulties, please don't hesitate to reach out!